As the years advance, I've become less and less able to make decisions. For example, choosing which record(s) to buy on any given visit to a record shop (or website, for that matter) has become increasingly difficult. The same applies to gigs. In Glasgow, there are often a couple of options to choose from on any given night and I struggle to decide which one to go to right up to doors open time. Given this, choosing what to go to on Friday, 1st June 2018 will be pretty tricky. I mean, just how does a self-confessed ditherer with my musical loves choose between the following?
The Pastels + Modern Studies + Andrew Wasylyk @ The Mackintosh Church
The Shacks @ Broadcast
The Scientists @ Nice'n'Sleazy
Vital Idles (album launch!) + Irma Vep + Current Affairs + Order of the Toad @ Mono
Each of these shows will be special and on any normal evening would be my gig of choice.
The Pastels
are my favourite group ever so I've seen them many times before (though not enough for my liking!) and they're playing in a beautiful, non-standard venue. That's the obvious choice.
The Shacks
, however, are fabulous and I've never seen them before thanks to their gig with Khruangbin at the CCA earlier this year having sold out before I was even aware it was happening. It's at Broadcast, mind you, which is not the best venue in town.
The Scientists
, of course, are garage legends and, being Australian, are far less likely to roll through town again anytime soon. I suspect they'll be a riot in downstairs in Sleazy's, too. Ah, but
Vital Idles
have a truly special place in
Not Unloved
's heart and their Mono show is the launch party for their debut lp (out via the smart kids at
Upset The Rhythm
). They've assembled a great lineup, too. Argh! In terms of dilemmas, it's a nice one to have but it'll take some sorting. If I were deciding purely on the posters, The Pastels show would surely win out as
Annabel Wright
has created this gorgeous piece of art for it: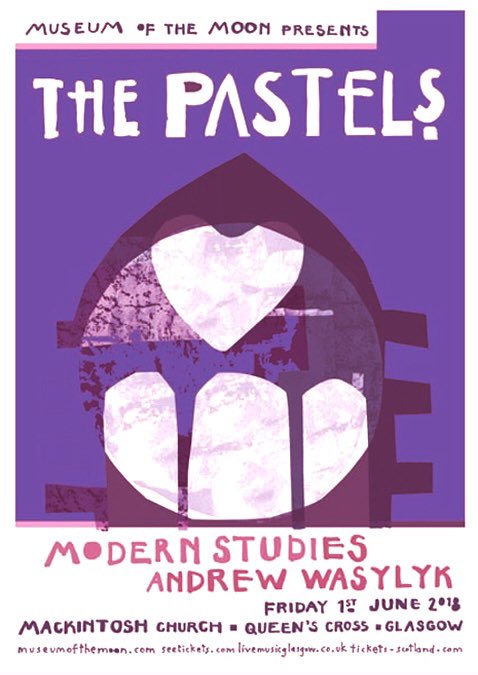 P.S. How fab is the latest Vital Idles song and video?